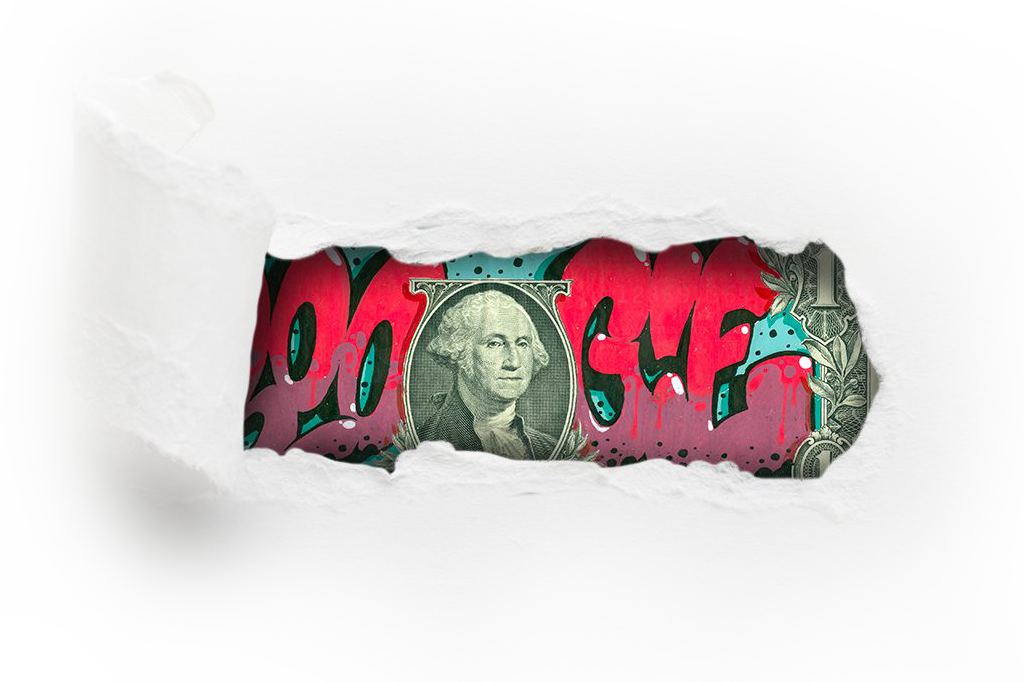 1001 artists, 1001 banknotes
Is Art money or is Money art ?

MONEY FOR NOTHING is an exceptional project born from Dominique Barlaud 's passion for urban art and impossible challenges.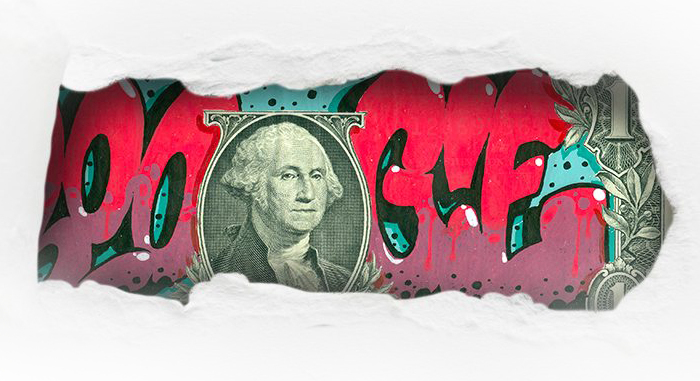 1001 artists, 1001 banknotes
Is Art money or is Money art ?

MONEY FOR NOTHING est un projet exceptionnel né de la passion de
Dominique Barlaud, architecte d'intérieur et collectionneur d'art, pour l'art urbain
et les défis impossibles.
A target between art and philantropy

An architect and art collector, Dominique has travelled the world for ten years with unwavering determination, to get urban and contemporary artists to paint banknotes.
MONEY FOR NOTHING presents an unprecedented collection made of 1001 original works painted by 1001 artists on banknotes from various eras and from every country in the world.
MONEY FOR NOTHING is a philanthropic project which combines love for art and love for animals. Indeed, the financial profit made will be fully donated to a project for protection of the environment and animal welfare.
A international collection

MONEY FOR NOTHING is an international collection which brings together the greatest artists of urban and contemporary art and which aims to be showed to different audiences around the world. The exhibition will take place whether in an art center or a French institute, in a train or a large bank. The aim of this exhibition is to promote popular and playful art whilst being very demanding in terms of the quality of the works.
Beyond their aesthetic qualities, the 1001 unique works of the collection also nurture paradoxes. What could be more fun than creating on a moving medium like a train or a subway car? How arrogant for free art to be displayed on today and yesterday's currencies and modify their use value?
MONEY FOR NOTHING questions the complex relationship between art and money with humor, provocation and fascination.

 As a complex, paradoxical and highly symbolic object, the banknote was the one and only unique creative medium used by all the artists reunited in the MONEY FOR NOTHING collection.
More than 1000 banknotes in various currencies and from different eras have been collected from all over the world. Some of them were already collector's items due to their rarity even before the artists' input.
The artists were offered to interpret some of the following themes, (although not all of them followed them): metaphorical representation of nature, vanities, or a free interpretation of Eugène Delacroix's "freedom guiding the people":

Speedy Graphito, Vhils, Banksy, Space Invader, Jonone, Lady K but also Keith Haring or Pierre Alechinsky… Within the 1001 artists who have willingly taken part in this inspiring and subversive exercise, many come from the urban art world.
Most of them were given a carefully chosen banknote by Dominique Barlaud, to create a miniature, precious and unique work.
Those famous or more underground artists all bear witness to a very talented vibrant and global culture.
Artist of the day
LADY K

Paris – France
LADY K commence à peindre pendant son adolescence. Elle expérimente différents médiums et techniques allant du graff au surréalisme dès 1992. Elle étudie aux Beaux-Arts de Paris et à l'université Paris 1.
Active depuis 1997, elle consacre sa pratique exclusivement au writing. Spécialisé dans les lettrages, son travail est à la croisée des chemins entre sketchs et personnages qu'elle décline aussi bien sur des murs légaux que sur des trains et d'autres supports illégaux.  Baignée dans un univers à la croisée de l'Europe et de l'Asie, elle se plaît à puiser dans les ressources culturelles internationales, l'ouverture au monde étant pour elle le point de départ pour son travail.
Learn more
Artwork of the day
« »

Learn more

Vous souhaitez participer à la production et la diffusion d'une collection unique au monde ?
MONEY FOR NOTHING recherche aujourd'hui des partenaires pour faire vivre le projet.
 Material support



Financial support



without direct or indirect compensation from the beneficiary
 Material support



Financial support



in exchange for negotiated compensation
Joining the MONEY FOR NOTHING adventure means :
– Associating your image with the vitality of contemporary creation
– Participating in building up the memory of urban art
– Committing to the animal cause (all profits from the sale of derivative products related to the project will be donated in full to a protection of flora and fauna project
IS ART MONEY ?
IS MONEY ART ?